Klay Thompson, the lesser-known Splash Brother, is quickly becoming a go-to scorer for the Golden State Warriors. And this is a team that boastsStephen Curry and David Lee.
For the second time this season, Thompson blew up for at least 30 points, this time on the road against the Minnesota Timberwolves Wednesday night. Prior, he had three 30-point games in his entire career.
He dropped 30 (11-of-21) and did most of his damage when it mattered most, scoring 19 in the fourth quarter. His late-game barrage buried Minnesota, 106-93, and served as further notice to the league that there's more than one killer on the team.
Through five games, the Warriors have leaned heavily on Thompson's offense. He leads the team in scoring at 24 points a game and he's now shown at least twice that he can completely take over.
I can't definitively answer Josh's question because I'm not ready to declare that Thompson can unleash a hot streak as devastating as LeBron James or Kevin Durant. But, my goodness, he's getting close, and it's starting look like those streaks may no longer be "occasional."
Just one week ago, Thompson lit up the Los Angeles Lakers for 38 points. That was the season opener, and he showed right away that he's no longer just a one-dimensional three-point specialist.
Thompson was 15-of-19 against the Lakers; 10 of those buckets came inside the three-point line. He was cutting without the ball like an early-2000s Ray Allen and fluidly catching and sinking mid-range shots all night.
According to NBA.com, he's currently third in the league behind Kyle Korver andLaMarcus Aldridge in catch-and-shoot field goals made per game at 3.5. He's shooting 56 percent in those situations.
That's not to say that he's exclusively an eight-foot-to-the-arc kind of guy, though. As evidenced by his 6-of-9 display from long range in Minnesota, defenders still have to respect his range first.
What the shorter shots do is make those same defenders think twice about closing out too hard at the three-point line. Thompson can now pump fake, take a rhythm dribble and sink the closer shot.
Long story short, he's now a more complete scorer and a threat from everywhere on the floor.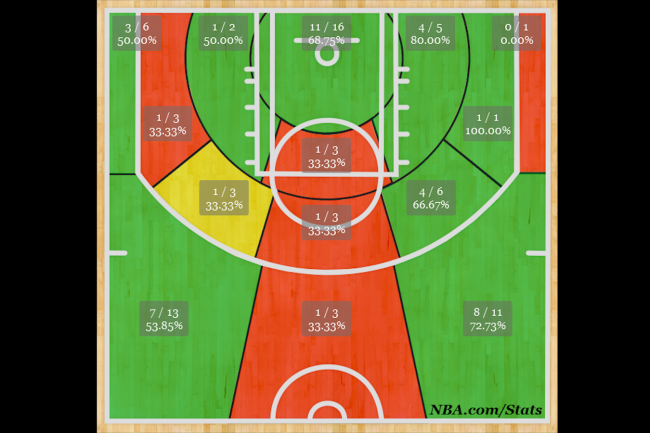 We probably should have seen this coming.
The acquisition of Andre Iguodala has made life easier for Thompson. He's no longer tasked with expending extra energy defending the opposition's best wing. And now there are two distributors in Iguodala and Curry who can create scoring opportunities for Thompson.
Landing Iguodala also spawned talk of Thompson possibly coming off the bench. Some felt (myself included) that a wing combination of Iguodala and Harrison Barnes might be most effective. Even if he didn't say it, Thompson may have been at least somewhat motivated to prove his value coming into this season.
And his value should be sky high right now. The Warriors now have another legitimate option in the clutch moments along with Curry and Lee. After Curry left Wednesday night's game in the third quarter with a foot injury, Thompson calmly assumed the mantle of crunch-time scorer. And Minnesota was hopeless against him.
So what does this mean to the rest of the league? In the words of the immortal Mr. Arnold, "Hold on to your butts."
Against the Warriors, a team could successfully slow down one, maybe two of their legitimate 30-point threats. But that still leaves one or two more.
Source: http://bleacherreport.com/articles/1840719-watchout-warriors-klay-thompson-already-has-two-30-point-games-this-season