Confidence unlocks the door to success, and if the rest of the Golden State Warriors share KlayThompson's in-house conviction, the Dubs are headed for something special.
Thompson, per SportsCenter's official Twitter account, believes the Los Angeles Lakers have ruled California for far too long. He also says the Warriors are ready to take control of the entire Western Conference.
Warriors G Klay Thomson says the Lakers have ruled California for far too long. "We want Golden State to be the team out West."

— SportsCenter (@SportsCenter) October 18, 2013
Golden State's third-year guard sounds a lot like the Los Angeles Clippers of last year, and even of today, does he not?
Beat the Lakers. Overtake the Lakers. Win the battle for sunny Cali and the West in general. That's been the war cry for the former residents of Lob City since Chris Paul arrived in 2011.
Things in the Western Conference—specifically, the Pacific Division, which houses all four of the NBA's California-based teams—have changed since then. A lot.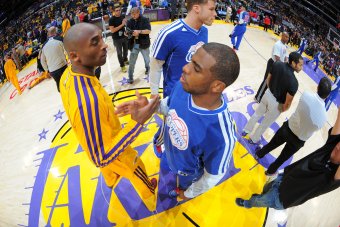 Andrew D. Bernstein/Getty Images
Golden State is coming for the Clippers and Lakers.
Led by an injured Kobe Bryant, and coming off a wildly disappointing season during which they failed to win their division for the first time in five years, the Lakers aren't who they once were.
The Warriors aren't either. Forty-seven victories earned them their first playoff berth in five years last season, en route to coming within two wins of a Western Conference Finals appearance.
Following the acquisition of Andre Iguodala, the Dubs are gearing up for what should be a huge 2013-14 campaign. Young guns such as Thompson, Stephen Curry and Harrison Barnes give them a prolific core, while veterans like Iggy, David Lee and the oft-injured Andrew Bogut help vault them into the land of contention.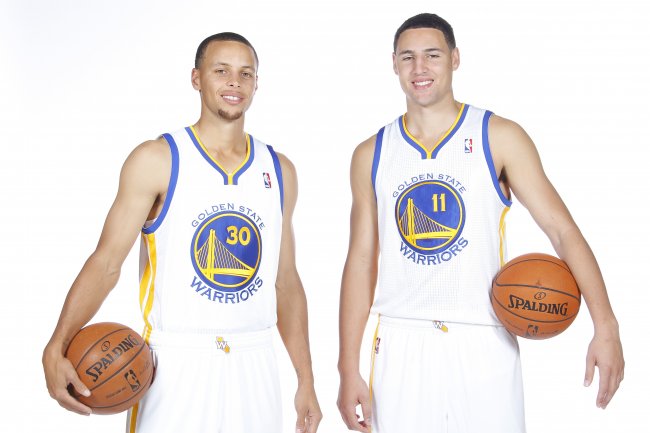 Rocky Widner/Getty Images
There are new sheriffs in California.
Being the best team in Cali shouldn't be a problem; but the Lakers have always been the most popular team in the state. As long as Kobe still dons purple and gold, that's not going to change.
But Golden State is already the better team, just like the Clippers. In fact, I have the Dubs battling the Clippers for the division crown this year. Seriously.
Outside the Pacific, you also have to like Golden State's chances at making some noise. The Houston Rockets, Oklahoma City Thunder, San Antonio Spurs andMemphis Grizzlies are all tough teams, but the Warriors are a good combination of young and experienced.
Nabbing their first division title since 1976won't erase the Lakers' rich history, nor would it make them the best team in the conference. But it's a good start, and quite literally, it would make the Warriors the best team in Cali.
Provided they remain healthy, it also gives the Dubs a shot at the Western Conference title.
Seriously.
http://bleacherreport.com/articles/1816499-klay-thompson-says-its-time-for-golden-state-warriors-to-be-the-team-out-west