The Houston Rockets are off to a red-hot start in the preseason, and some guys have really been playing well from the get-go.
To no one's surprise, superstar James Harden is tearing it up so far, but he's not the only one. Other guys like Jeremy Lin and Patrick Beverley are also playing impressively. Even some unexpected role players like Omri Casspi are catching the coaches' and fans' attention.
Here's a group of guys who should just keep doing what they're doing so far in the preseason and carry it into the regular season for the Rockets.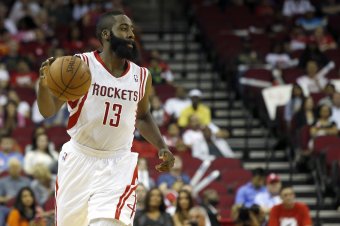 Thomas B. Shea/Getty Images
The beard has been business as usual so far in the preseason.
James Harden
Every Rockets fan knows that James Harden is the brightest superstar for the Rockets. Harden is the man in the spotlight and the go-to guy in crunch time.
The Beard has wasted no time in 2013. He has been lighting it up since the first preseason game against the New Orleans Pelicansand hasn't looked back. He is averaging 21 points per game and hasn't played for over 30 minutes in a game yet.
Harden is shooting 44 percent from deep and has kept his turnovers down, which means Rockets fans can't find anything to complain about. He also has a handful of assists and steals and has been getting to the free-throw line with ease, as usual.
The Rockets will go as far as Harden will take them this season. A lot of people think Houston can contend for a title. If Harden continues to play like this, the Rockets definitely can.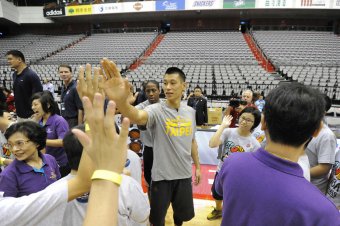 Bill Baptist/Getty Images
Jeremy Lin is like a superhero in Taiwan and the Philippines.
Jeremy Lin
When the Rockets traveled overseas to the Philippines and Taiwan, Jeremy Lin became the man under the spotlight. Lin is a global icon for basketball and has loyal fans worldwide.
During Houston's two overseas games, Lin has played outstanding. He is averaging 15.5 points, 4.5 assists and 1.5 steals per contest. Lin has been a human highlight reel this preseason, which is promising for Rockets fans.
After a shaky playoff performance last season versus the Oklahoma City Thunder, many people are questioning Lin's future role with the team. With Dwight Howardand James Harden running the show, Lin has taken a backseat role for the Rockets.
Will Lin be able to find his niche in the rotation and succeed? His preseason performance thus far has indicated that he will still be able to thrive.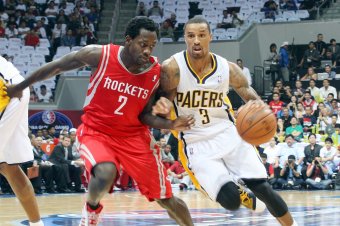 Mike Young/Getty Images
Beverley's energy and aggressive defense are big pluses for Houston.
Patrick Beverley
Lin's backup (at least for the time being), Patrick Beverley has also been on a tear to start the preseason. Beverley's high energy and aggressive play have made him a fan favorite in Houston.
So far, Bev is averaging 8.7 points and 2.7 steals a game. His defensehas been outstanding against quality point guards like Jrue Holiday and George Hill.
Coach Kevin McHale should consider staggering Lin and Beverley's minutes to let Beverley play alongside Harden for a good portion of the game. Beverley is a better fit in the lineup with Harden because he can play off the ball and shoot the spot-up three-pointer. He is also a better defender than Lin is.
Lin is at his best when he can make plays with the ball in his hands, but his touches are limited when Harden is in the game. Lin could run the pick-and-roll when Harden is resting on the bench, and every player's talents would be utilized in a more effective way.
Whether he ends up starting or coming off the bench, Beverley will be a key contributor for Houston this season. His early preseason success is a sign of good things to come for him and the Rockets this season.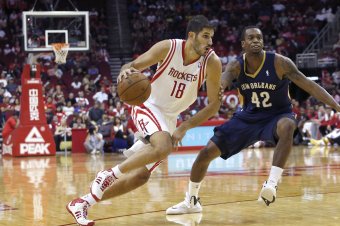 Thomas B. Shea/Getty Images
Casspi's scoring barrage has been a pleasant surprise for Rockets fans.
Omri Casspi
Perhaps the biggest surprise of the preseason, Omri Casspi is playing out of his mind. After a few irrelevant seasons in Sacramentoand Cleveland, the Israeli star has found a home in Houston.
Casspi is fighting for a spot on a team with a deep roster, and he is cementing himself into the Rockets rotation. He is averaging 16.7 points and 7.0 boards per game, and is shooting a spectacular 76.9 percent from the field.
If Casspi can continue to score at such an incredible rate, he will become a go-to guy in the second unit for the Rockets. He can replace the void that is being left by CarlosDelfino, who was a key scorer off of Houston's bench last year.
It is unlikely that Casspi can keep up this pace for the course of an entire season, but the Rockets would be fortunate to get any extra scoring off the bench. Casspi will be more of a contributor than fans first expected.
Source: http://bleacherreport.com/articles/1811073-biggest-standouts-of-houston-rockets-preseason-so-far